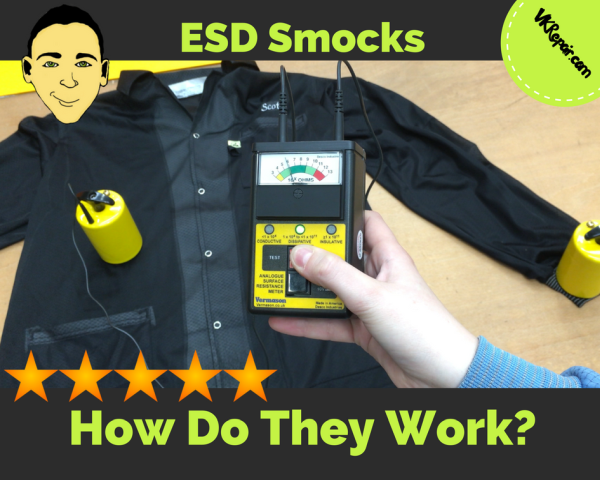 Also known as ESD lab coats, the ESD Smock is a piece of clothing designed to protect sensitive electronic devices from static electricity discharges that could fry their circuits. So, such a product would come in handy in a lab dealing with electronics, in a factory, and even in a phone repair shop where you have to work with sensitive equipment.
While some people are happy with just wearing a wrist strap, it is proven that the ESD smock offers better protection and it is best that you include it in your toolkit.
How Do ESD Smocks Work
The principle behind this safety measure is quite simple. As long as you wear it, there is a static shielding barrier against the electrostatic discharges that may be generated by your body when you touch various conductors on the devices you are handling.
Furthermore, because all ESD smock products are equipped with conductive fibers, they will not become charged with static electricity, which can be transferred to the electronic devices you are handling.
ESD Smock Requirements
In order to be safe to use (for both you and the electronic devices) per ESD regulations, a ESD smock should meet the following requirements:
Should be antistatic low-charging - this way the level of electrostatic charges generated is minimal;
Should be dissipative – in this case, when you have a grounding point, the charges that do exist, should be easily and quickly sent into the ground;
Must have shielding properties – Specialists describe this as having a Faraday Cage effect around you. This means that the charges generated by your clothes and body will not be passed on to the devices you are handling.
It must have a grounding point – Regardless of the fact that the point is around the hip around the wrist, the ESD smock should offer the possibility to send the charges into the ground.
Besides this, it should be comfortable, pleasant to touch, and should offer plenty of moving room for various activities. It also helps if it's easy to maintain (can be washed without too much fuss).

Best ESD Smock for Your Needs
Given that ESD smocks are so useful for when you are repairing electronics, we did a bit of browsing and found the top 3 best ESD smock products that come with cool features and a good bang for the buck.
StaticTek 9010 ESD Smock
Static Shielding: Level 3
Fabric: 90% Polyester, 10% Carbon
Other features: safe snap cuffs, jacket collar, snap front closure
The StaticTek 9010 Series ESD jacket is a good fit for all work environments that require ESD protection. The design makes the jacket very easy to use and the fabric feels good when it touches the skin, so you don't have to worry about chafing.
Since it has level 3 static shielding, the jacket can be worn in various situations, which reduces the time spent with changing. Of course, this is only valid if you work in a lab. If you just need it for work with electronic devices, one ESD smoke jacket is enough.
The product is low-maintenance and it can be machine-washed in warm water.
Pros:
Easy to wear
Comes in several colors
Safety snaps for sleeves and the front
The material is nice to touch
Good safety levels
Can be used in various work situations
Cons:
A bit pricey
No grounding
DESCO 73615 ESD Smock
Fabric: 9% carbon conductive nylon fibers woven in chain-link
Other features: hip or cuff grounding, lab coat design
The DESCO 73615 ESD Smock is a bit more elegant and represents a good fit for both men and women. The important part is that you can connect the smock with a coil cord to the grounding station, and simply go about your work unhindered.
The fabric is woven with carbon to make sure the smock will maintain its isolating powers for as long as you intend to use it. This is important because the ESD smock creates a Faraday cage effect around the arms and torso of the user in order to protect ESD sensitive devices such as motherboards, graphic chips, and other electric components.
The product is covered by the producers, but only for 100 launderings, so make sure to limit the cleaning sessions for as much as possible.
Pros:
Easy to use and quite elegant
Grounding without the cord getting in the way
Perfect for working with electronic devices
Durable and covered by warranty
Cons:
A bit expensive
Only one color
DESCO 73634 ESD Smock
Fabric: 9% carbon fibers woven in chain-link design and polyester
Other features: hip or cuff grounding, collar, safety snaps in front
The chain link design on the DESCO 73634 Smock provides charge dissipation at all times and keeps safe the electronic devices you are handling. Also, the pant pocket slits and the large pocket space available, allow you to easily access and store various items at your earliest convenience.
The cuff and the hip area can be connected to a grounding station using a stud snap, the collar keeps the wearer comfortable, and the sleeves can be adjusted to three sizes.
Overall, this ESD smock resembles the design used in labs, which is why it is so practical and efficient. It works well in a phone repair store, but it can be used in various other work environments.
Pros:
Practical design
Easy to wear and comfortable
Easy to maintain
Large pockets that are easily accessible
Cons:
Light color, easy to get dirt on it
Conclusion
As you can see, an ESD smock is important when you're dealing with electronic devices all day long. But, in our opinion, it should be worn during DIY projects, or when you're handling PC components. This way you avoid the risk of frying expensive components.
Overall, ESD clothing is not extremely expensive and it doesn't require too much maintenance. The top quality products are also durable so you don't have to worry about buying one every month. As long as you treat it right and wear it when needed, this product will be of extreme use in many situations.