Acer GN246HL 144hz 24.0 Monitor
Even though Acer is probably not the first name you would think about when you're off to buying a new gaming monitor, the Acer GN246HL is definitely a product that you shouldn't ignore. Actually, Acer decided to get back some of the lost popularity by putting together an entire line of gaming monitors and peripherals that could satisfy even the most pretentious of you. This is why today we are going to talk about the Acer GN246HL review and the main features that make it such a hot product on the gaming market.
First, you should know that this monitor is among the most affordable 144 Hz screens you will find. This is actually a bit surprising considering the fact that it supports NVidia 3D Vision hardware and it is built using a TN based LED panel for extra speed and an enhanced gaming experience. Just make sure you understand that the NVidia hardware is not included in the initial price, you will have to purchase it.
@SelvekTV idk what my hands are doing. I have the ACER gn246hl, was about $200 when I bought it, great monitor.

— destram@Pacsun (@DestramMG) January 16, 2016
Of course, Acer had to cut some corners to get this screen at such an affordable price, but nothing too drastic. There are still a few jaw dropping specs that make it a fantastic choice for a gamer on a tight budget or for someone looking to enjoy an amazing video experience. Below we're going to discuss every positive and negative aspect of the GN246HL so make sure to read carefully.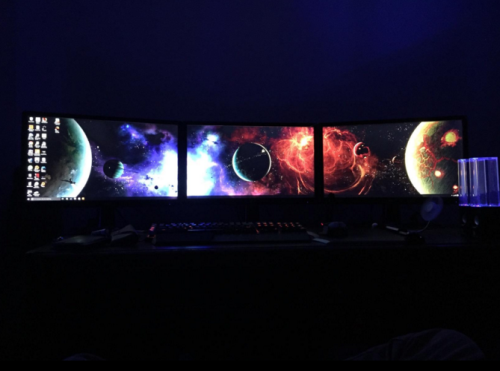 Acer GN246HL Specs
Let's start the Acer GN246HL review with the outstanding level of performance it has to offer. This screen is definitely one of the fastest on the market with a pixel pitch of 0.276mm and a response time of 1ms. The rapid response time reduces deviations and creates high-quality moving images without any screen tearing or lag.
Even more, all Acer advanced monitors are equipped with eco-friendly technology which manages to reduce the energy consumption to the minimum (68% power savings!). This means less money spent on energy bills and more possibilities to buy new, exciting games!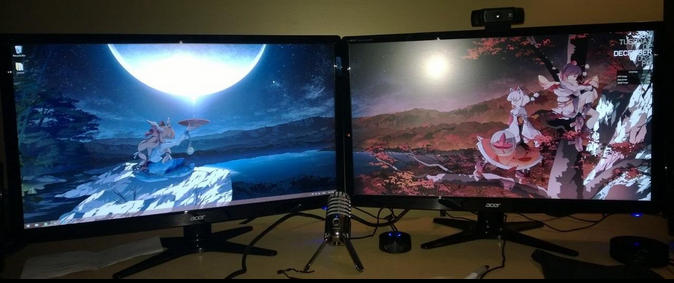 The GN246HL screen is armed with white LED backlight to reduce eyestrain and minimize the environmental impact (these screens don't contain any toxic substances that could leak when they're out of use). This may not be as important for most of you, but knowing your actions leave a smaller carbon print on the environment is definitely a great feeling.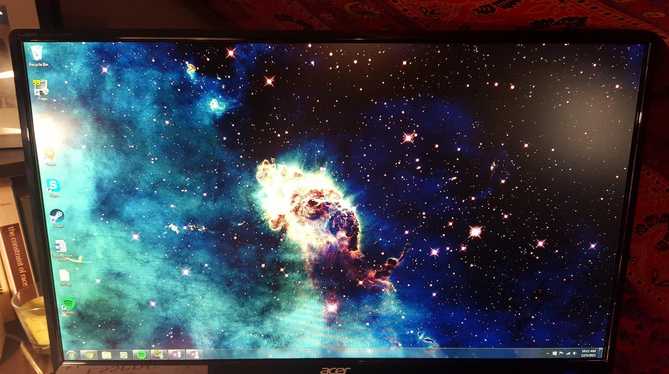 Now, let's see the actual performance: the Acer GN246HL supports a 144 Hz refresh rate and a native 1080p resolution (full HD); all displayed with the help of a 24-inch widescreen LCD monitor. All these specifications mean that your new monitor will deliver outstanding detail for demanding visual activities like full HD gaming, digital content applications, and multimedia.
Acer managed to boost this screen on top of the most wanted with the NVidia 3D Lightboost (for extra brightness) and the fact that you can use NVidia 3D Vision glasses to enjoy some really cool 3D fun. You can even connect multiple pairs of glasses to share the fun with friends and family!
The Acer GN246HL monitor supports a contrast of 100 million: 1, which manages to display the deepest blacks and brightest whites, removing those gray patches in low-light areas of the game.  When it comes to color temperature the monitor is a bit off, showing colder colors that normal, but the color accuracy is quite surprising.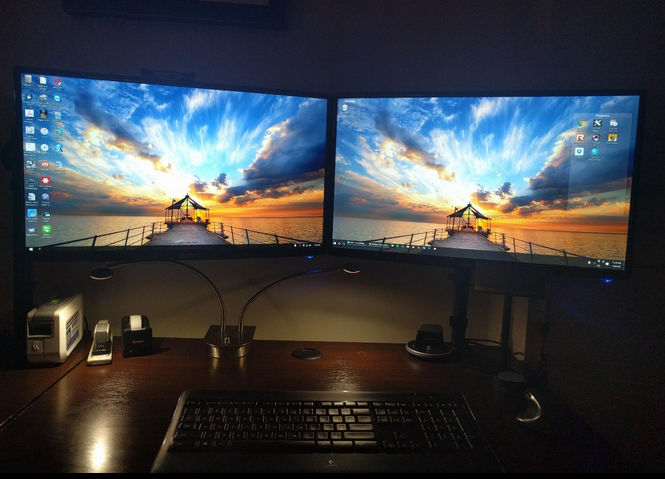 Acer gGN246hl bbid Features & Design
We continue the Acer GN246HL review with the outside aesthetics, and we start with the slim design. This monitor can definitely be considered one elegant piece of hardware due to the slim bezel and glossy black finish.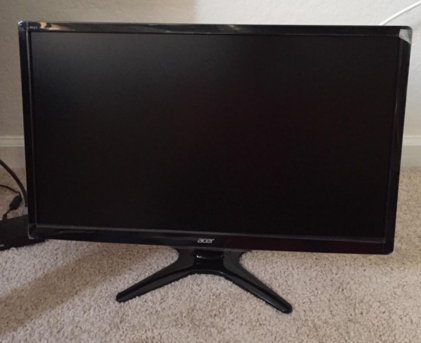 We mentioned in the beginning of our Acer GN246HL review that the producer had to cut some corners in order to maintain the screen within an affordable range budget. If we didn't see any major flaws while discussing the performance, the cheaper side of this monitor can be observed when discussing the design. For example, the stand is not height-adjustable and you can't tilt it (easily), which can be a bit frustrating when you're trying to achieve the optimal viewing angle (the native viewing angle is 170/160 degrees).
Once you manage to find your angle, you will need a screwdriver and a wrench to tilt the monitor in the wanted direction. This means you'll have to pop off the stand and do some tweaking of your own. So, if you're not that kind of person, maybe you should consider another product, with an easier to control stand.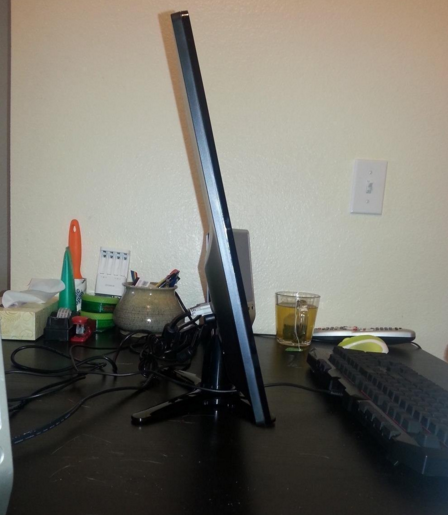 The monitor also supports a series of buttons on the bottom of the bezel so you can adjust the default settings. However this Acer GN246HL review made these feel a bit awkward to use as they are well-hidden. And because the stand is not tall, it's difficult to actually see them. Otherwise, the predefined settings are very easy to use, but if you want vivid colors, make sure not to choose the ones designed to save energy. Also, you should prepare your eyes as the brightness is set by default to 100% which is extremely bright and upsetting. After you set it right, everything becomes better.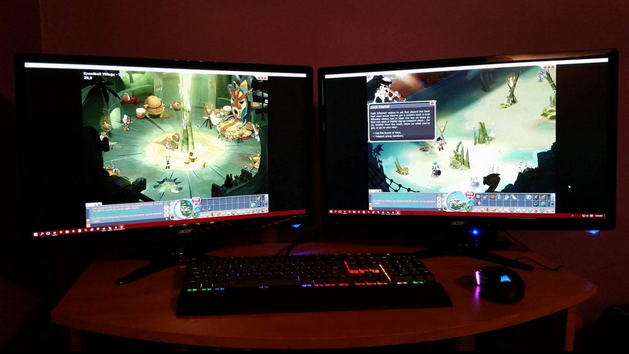 Connectivity of The Acer GN246HL 144hz
The Acer GN246HL supports a series of ports that allow the user to connect using a wider variety of devices. Thus, there is a Dual-link DVI port, one VGA port, and one HDMI port. You can feel the corner cutting again with the lack of a DisplayPort connector.
Still, the DVI and HDMI ports allow you the possibility to connect mobile devices (smartphones & tablets) and extend your favorite mobile game to a 24-inch display with 144 Hz refresh rate.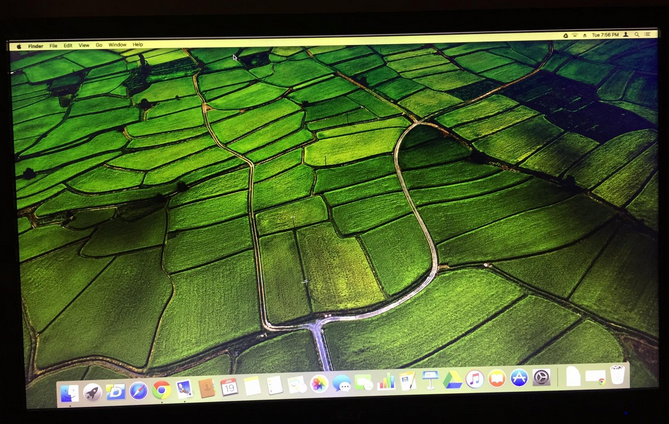 Unlike other gaming monitors, the Acer GN246HL doesn't support any audio or video inputs. We don't think these will be missed since most users buy this screen for games and multimedia using an external device.
@Rcborns if you're looking for a 144hz monitor id get the Acer GN246HL its a lot cheaper i plan on getting it very soon

— Donny (@Donny2K_) March 12, 2016
 Final Thoughts on Acer GN246HL
Even though the Acer GN246HL 144hz monitor can be considered a budget gaming monitor, it still is one of the fastest on the market. The screen actually manages to offer vivid colors, a feature that many advanced monitors can't implement, and a smooth gameplay without lag or ghosting.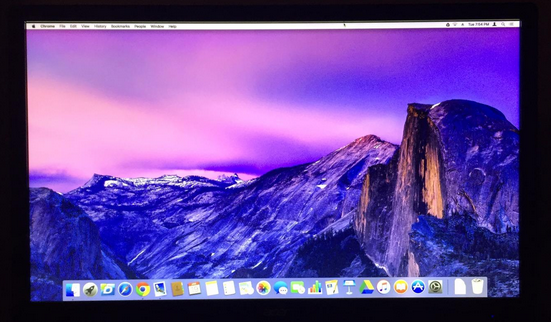 After a thorough review, we like the GN246HL for its amazing features and we could accept its not-so-terrible imperfections. If you liked our Acer GN246HL review, check out the monitor on Amazon here!