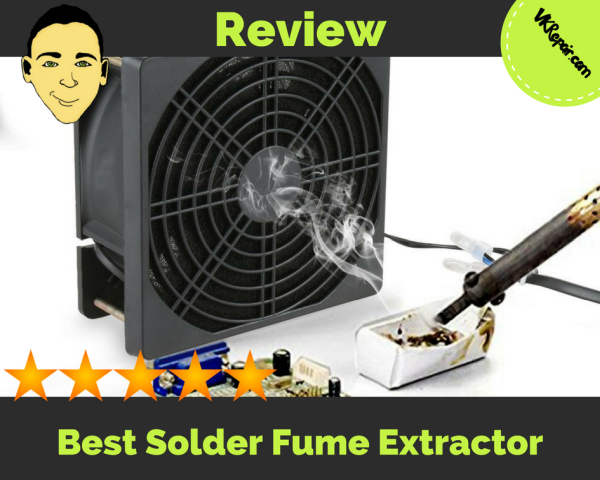 If you've ever used a soldering iron or you ever put together an electronics board, you know solder fumes are not the most pleasant thing in the world. But it's not exactly the smell that's the problem here; it's the fumes.
When heated, the metal used for solder releases harmful chemicals such as lead oxide or rosin-based flux & colophony. When inhaled, these chemicals can produce serious health problems, especially if you tend to spend a lot of time on your projects.
This is why, whenever you're working with a soldering iron, it's of paramount importance to have a solder smoke absorber that will attract the harmful fumes and either keep them in a filter or release them outside, using an air vent.
Regardless of your choice, such a device must be present and close to your work area. Now, if you work in a phone repair shop, this type of fan must be included in your toolkit, because there is bound to be some soldering during your work day!
You don't need to spend a fortune in order to get the best solder fume extractor; it's enough to take a look at the products I reviewed below (they are affordable and amazing for a phone repair service shop).
Aoyue 486+ Fume Extractor and Smoke Absorber
This is a small-sized fan absorber especially designed to absorb and remove soldering fumes from small to medium rooms. The filter is equipped with active carbon to keep the harmful smoke and fumes at a safe level, and the fan comes equipped with a 4-inch aluminum air duct that can take the fumes out and a low voltage lamp to illuminate your work area.
The Aoyue 486+ Fume Extractor and Smoke Absorber is a fantastic addition to any phone repair service shop, but you have to keep in mind that, for it to be effective, you have to work close to it (hence the lamp).
Pros:
Active carbon filter to absorb the harmful substances
Aluminum air duct to take the fumes out
Easy to install and use
Cons:
Not very powerful
You need to work close to it
Kulannder Handy Carry Solder Smoker Absorber
This is a portable solder fume extractor that you can easily pack in your toolkit and install wherever you need. All it requires is an outlet and a flat surface, and you can use the ON/OFF switch to start it and stop it according to your needs.
The Kulannder Handy Carry Solder Smoker Absorber is made of aluminum alloy material, so it is durable even if it happens to get trampled by mistake. Furthermore, it is equipped with a carbon filter (which is easily replaceable) and it is designed to last for over 50,000 hours.
Overall, this tiny fan is quite powerful and has the advantage of mobility over everything else.
Pros:
Highly portable
Durable and sturdy body
Can be used exactly when you need it
Cons:
The wires are twisted together – the cable is not a continuous wire
Hakko FA400-04 Bench Top ESD-Safe Smoke Absorber
The Hakko FA400-04 is one of the best solder smoke absorbers on the market as it is durable and portable. The body may be plastic, but it is durable and lightweight, which allows you to move the fan around, as you need it.
The legs let you place it on any flat surface around your workbench and it can be used either standing up or laying down. Furthermore, the fan is made of ESD-safe materials so you can use it while working on delicate circuits without worrying about any ESD incidents.
Finally, the Activated Carbon filter is amazing at absorbing harmful fumes and it can be easily replaced, when the time comes. At the end of the day, this is a durable, versatile, and easy to use solder smoke absorber!
Pros:
Lightweight & solid
Easy to set up and use
The filter is easy to replace
Cons:
You need to work in front of it
The plastic body is a bit bulky
Not too silent
Xytronic 426DLX Fume Extractor
A fantastic fan to use for both hobbyists and people working on various small projects and devices (such as phones or small circuit boards)! This is a smoke absorber machine, with a full-metal design and a long cord, the Xytronic 426DLX is quite portable and will sit tightly on a flat surface.
Overall, the fan is sturdy and easy to use, but you will have to keep it close to the piece you are working on in order to actually feel a difference (still, this is true with every model we discussed here). Also, you should know it is a bit noisy, but not enough to be annoying.
Pros:
Sturdy and portable
All-metal build
Comes with three charcoal filters
Cons:
A bit noisy
Not very powerful
SciencePurchase Smoke Fume Absorber with Adjustable Table Clamp
If you're looking for the best solder fume extractor for a professional situation, the SciencePurchase Absorber may just be the one for you. The fan has a sturdy aluminum alloy body and it is attached to an adjustable arm which allows you to move it around according to your needs. However, this means the fan won't be as portable as the other ones, but if you're only working on a specific table, you don't need that much portability in the first place.
The adjustable arm has a table clamp for optimum mounting, it is not noisy, and it is ESD safe.
Pros:
Easy to use
Impressive mobility
Equipped with activated charcoal filter
Does a great suction job
Cons:
You need to keep it close to your work for optimum suction
The wire is twisted, not continuous
In Conclusion
For a phone repair service shop, a solder smoke absorber is an absolute necessity because the fumes can aggravate allergies and can irritate the nasal mucosa, creating long-term problems. But, as you can see, you don't need a big fan or an air machine to suck the fumes out – a small device is enough.