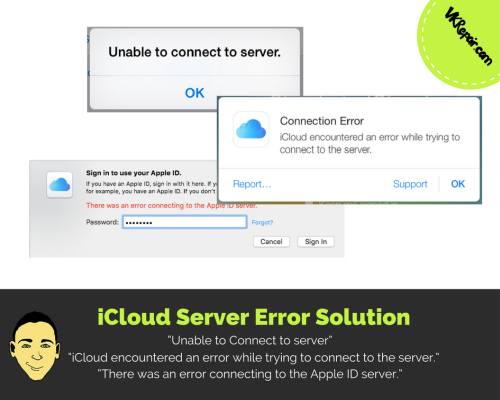 iCloud Server Error Message: Figuring Out The Best Way To Resolve It
Have you ever experienced receiving the following iCloud server error message on your iPhone, iPad, iPod, or even your computer?:
"Unable to Connect to server"

"iCloud encountered an error while trying to connect to the server."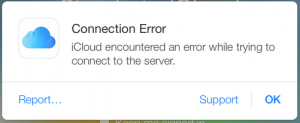 "There was an error connecting to the Apple ID server."

This error message is typically seen when trying to sign into iCloud. They are also seen when you try to restore your iPhone through iTunes, as well as if you are trying to use the iCloud Control Panel. These messages may signify a multitude of problems. This article will focus on giving you some of the reasons behind this iCloud server error message. We will also give you an idea how to resolve them properly.
Reasons Behind the iCloud Connection Error
Apple iCloud server is down

Internet connection problem

iCloud account not verified

Issue with iCloud account

iOS needs to be updated

iTunes or iCloud Control Panel Problem
iCloud Server is Down
The simplest reason behind this iCloud connection error message could be that iCloud is currently down. In this case, you just have to wait for the website servers to come back up in order to sign in. Although the iCloud server does not usually go down, it has happened numerous times before!
Luckily for you, Apple has a system status page that you can check out here to see if iCloud is down.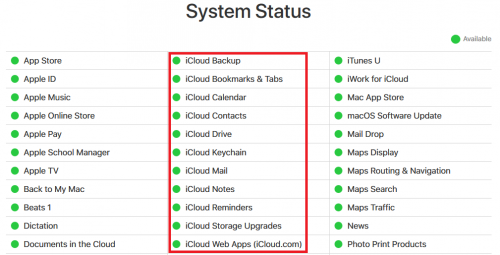 As you can see from the image above, the iCloud server is indeed up and running, corresponding to the green. If one of the iCloud services has a red dot next to it, that means Apple is having a problem with their servers!
How to Fix iCloud Server Down
There is no way to fix this issue when the iCloud server is down. The only person who can fix it is Apple themselves, so you will just have to wait it out. Typically, Apple resolves the problem within a few hours.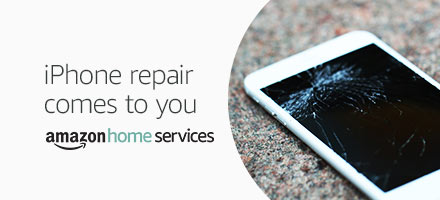 No Internet Connection
There could be a problem with your Internet connection. In this case, your device cannot reach out to the iCloud servers. Therefore you will get the iCloud server error message.
How to Fix No Internet Connection
You have to check if you do have a connection to the web before you try to connect to iCloud. If you don't have Internet connection, there are a few ways to troubleshoot it.
First thing is to check if you can visit a website.
Open up Safari, or your favorite browser app

Type in

google.com

Search a random word
If you get results back, your network is working fine. If you get a message like "Safari cannot open the page because your iPhone is not connected to the internet.", then you have no internet!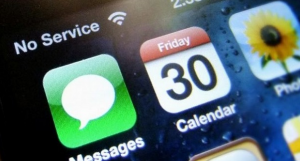 If you have no internet, look at the top of the iPhone where the time is. Does it say "No Service" or you have no bars? Then you are in a dead zone and need to go somewhere else for a better connection.
Lastly, make sure your WiFi is not causing the problem. Turn off the WiFi and try again. To turn off the WiFi, simply swipe up to show the control center and press the WiFi icon.
iCloud Account Not Verified
The iCloud server error can be caused by an issue having to do with your actual iCloud account. Apple may have updated their terms & conditions, and you just never got the pop up to accept them!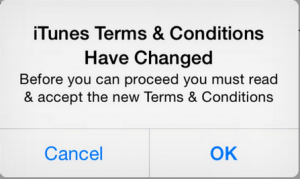 How to Fix iCloud Account not Verified
In order to verify your iCloud account, you have to accept iTune's new terms and conditions. Follow the steps below to accept the new terms.
Open up the

Settings

app

Select the first option to open up the iCloud settings

Depending which iOS version you have, the iCloud settings might be in different places. I have iOS 10.3.2, and the iCloud settings are found right on top.

Once you press

Sign in to your iPhone

, you will get to the iCloud sign in window

Enter your Apple ID and Password, then select

Sign In

You will get a notification to accept the terms & conditions, press

OK

You will now see the Terms and Conditions window, press

Agree
As soon as you agree to the new terms, the iCloud connection error message should stop appearing (if that is what was causing it!).
Issue with iCloud account
You might have a problem with your iCloud account that you are not aware of. This may result in the iCloud server error from constantly appearing!
How to Fix Issues with iCloud Account
The best way to confirm the status of your iCloud account is by logging into iCloud.com. I would suggest you do this on a computer instead of your iPhone or iPad to prevent any conflicts.
Go to

icloud.com

Enter your Apple ID and Password

Click the arrow to sign in

If you have Two-Factor Authentication enabled, you will get a code on your iPhone

Enter the code

If this is the first time logging in with your computer, it will ask you if you want trust this browser, hit Trust or Not Now
Once you have successfully logged in, you should be all set. If you get any errors, contact Apple support as that is why your are having issues.
iOS Needs to be Updated
You will be surprised how many issues can occur when you are not running the latest iOS software. iCloud is closely tied to the iOS. If Apple made a few changes in a new update, they may have broken something with the old iOS.
How to Update iOS
Updating iOS has become very simple. If you do need to update it, make sure you reserve some time for the update, as you will not be able to use the iPhone while the update is going through!
Go to the

Settings

app

Go to

General

Select

Software Update

If you need to update your iPhone, it will tell you here
iTunes or iCloud Control Panel Problem
If you are getting the following message in iTunes or iCloud Control Panel "You can't sign in because of a server error.", then there is a conflict on your computer. The iTunes and iCloud need to be able to communicate with the servers, and something is preventing it.
How to Fix iTunes or iCloud Control Panel Problem
Typically it is caused by security software such as an anti-virus program you have. Make sure you add iTunes and iCloud Control Panel as an exception to your anti-virus. Additionally, make sure your computer is connected to the internet!
Additional Options If Nothing Worked
If none of the solutions above worked for you, I still have a few more left! It is important to get the iCloud server error message to disappear, as it will not do so until you log into your iCloud account successfully. You have to confirm your account credentials to be able to get rid of this particular message on your device.
Reset Your iPhone
Try restarting your iPhone. It is the common solution to every problem!
Press the Power button until

Slide to power off

shows up

Slide to power off

Hold the Power button to turn on the iPhone
Authentication Failed
The root cause of the problem can be that you simply forget your password or your are entering it wrong.
Go to

iCloud.com

Try signing in

If you get the error "

Your Apple ID or password was incorrect

", click on

Forgot password

Follow the steps to reset your password
Conclusion
If all else fails, do not hesitate to contact technical support to help you out of your predicament. To get support you have two options
Go to an Apple Store and they will help you
With these particular solutions, I hope that you were able to get rid of the iCloud server error message sooner rather than later.
Have questions or suggestions? Leave a comment!