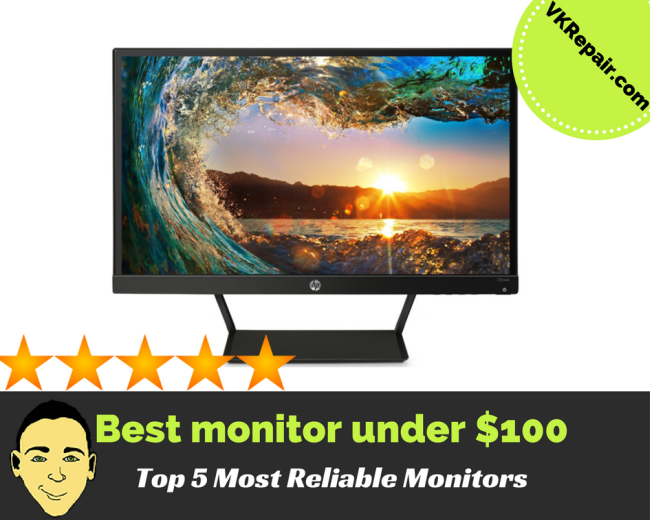 In today's work environment and available entertainment systems, we spend almost half of our lives in front of a computer monitor. After all, most jobs require collaborative work with a computer and everything we use for fun has a type of screen attached.
The market is flooded with various products but, according to recent data, the average user doesn't know how to choose what's best for them. Most compare the price tag with the diagonal size and that's it; but there's more to a monitor than these numbers. For instance, you could choose the best monitor under 100 dollars that fits your needs and still get a better product than someone spending more just because he/she wanted a bigger screen.
To help you in choosing the right screen without breaking the bank, we put together the top 5 best monitors under 100 dollars that could be a good fit for almost anyone.
#1: HP Pavilion 22cwa LED Backlit Monitor
The HP Pavilion 22cwa 21.5-inch IPS LED Backlit Monitor is the first on our list due to its impressive features. First, the 21.5 inch monitor allows for an ultra-wide viewing experience which makes it great for movies and video games. Also, if you need more than one monitor, you can easily create a multi-monitor setup with this model.
The In-Plane Switching (IPS) technology allows for an amazing vantage point regardless of your position. This means the image will look the same from almost any angle. Even more, the high color fidelity and the level of color make it a great purchase for movie nights with friends and family.
This HP Pavilion monitor supports a back light, for a better viewing experience and is designed with FHD image resolution. This means you won't be able to see a 4K video on it, but the 16:9 aspect ratio and the 7 ms response time do recommend it for any other regular activity.
In terms of connectivity, the monitor supports VGA and HDMI (with HDCP) connectors. Finally, the ultra-slim design and the anti-glare treatment seals the deal and places this monitor on the top of our best monitors under 100 dollars list.
#2:  Acer G226HQL 21.5-Inch Screen LED Monitor
We love the fact that some of the best monitors under 100 dollars support an ultra-slim design! The Acer G226HQL LED monitor (21.5 inches in diagonal) is no exception and the X-shape stand allows it to be fitted in any type of space.
The LED monitor supports 5ms response and implements an FHD resolution for an immersive visual experience. Due to the integrated Acer eColor Management and Acer Adaptive Contrast Management, the image can be easily customized to fit your need.
The size, design, and shape show the G226HQL monitor can be used either as a computer monitor or as an entertainment center for movies and video games. The available ports (1 DVI with HDCP & 1 VGA) let you connect everything from external hard disks to gaming consoles, even smartphones.
If you need more reasons to consider this as being the best monitor under 100 dollars, you should also know that the G6 series is RoHS compliant and meets Energy Star requirements. Even more, you'll save around 68% power by using this monitor which will translate in lower electricity bills.
Check out our Acer G226HQL review
#3: AOC I2267FW LED Monitor
A 22-inch LED monitor can be easily used for many activities. Starting with office work and ending with video games, such a monitor is definitely a valuable acquisition. The AOC I2267FW LED Monitor supports an FHD resolution (1920 x 1080), a 50M:1 MEGA Dynamic Contrast Ratio, and 250 cd/m2 Brightness. All these make it quite an asset for everyone looking to display high-quality images and videos.
Even more, the monitor is equipped with IPS panel which allows you to see the image correctly from any position (or angle). Finally, the slim profile makes it a great candidate for multi-monitor setups which go great in video games or offices where you need to create a bigger screen.
In terms of connectivity, the AOC I2267FW LED Monitor comes with 1 VGA port and 1 DVI-D with HDCP. Sadly, there is no HDMI connection and this may be a down point.
#4: BenQ GW2270 LED-Lit Monitor
BenQ is well-known for their products and their monitors deserve to be considered the best on the market. The BenQ GW2270 LED-Lit Monitor comes with a simple, all-black design that makes it a great fit for any office or desktop.
The 3,000:1 Native Contrast Ratio offers viewers natural colors that don't upset the eye which allows you to work long hours. Also, the monitor is equipped with ZeroFlicker Blacklight that is pleasant to the human eye.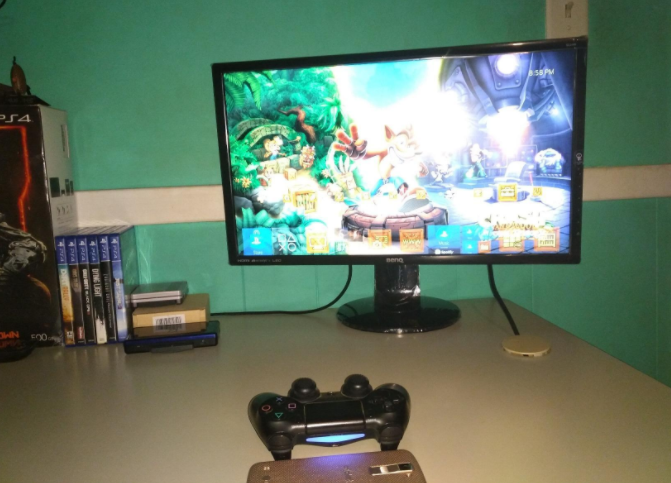 The viewing angle is wide (178°) so you can use it for both work and pleasure. For work, it will be easy to use it in collaborative projects and when it comes to entertainment this monitor will be great for movie night.
#5: Acer S22HQL Widescreen LCD Monitor
The S series from Acer promotes an elegant design with an ultra-thin profile which fits great in any setting (at home or at the office). As one of the best monitors under 100 dollars on our list, the Acer S22HQL Widescreen LCD Monitor supports an FHD resolution with 5ms response time and 1.78:1 aspect ratio.
Even more, the monitor uses white LED technology to save up to 68% energy in comparison with the standard LCD designs. Sadly, when it comes to connectivity, it only supports VGA and DVI ports (no HDMI). Also, another aspect you should consider, it does not come VESA ready.
A few final words
In the end, we can only say that with a bit of patience and research, you'll definitely find the right monitor for your needs. The important thing is to consider all the important features and to not let producers trick you with larger screens that are actually extremely power hungry.
Hoping we managed to give you an alternative, we're looking forward to hearing which monitor you liked best and why. Leave a comment below!