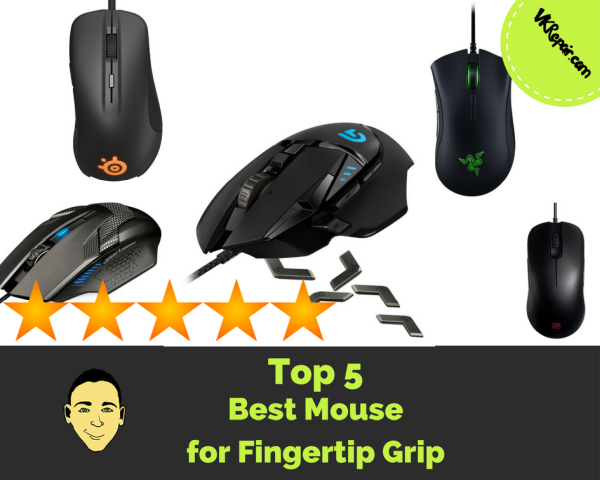 In this review:
Do you know your grip style? Did you even know there are several styles for gripping a mouse during gaming sessions? If not, don't worry, you'll learn more about your grip and its importance today! We'll also talk about the best fingertip grip mouse and we'll review some of the best products in this category so continue reading.
Why is grip important?
One of the reasons why a professional gaming mouse is different from a standard one is the level of customization. For instance, on a professional mouse, you have more controls (which can be customized according to your needs), you can adjust the weight, and even the lights. But did you know manufacturers also consider the way you grip your mouse?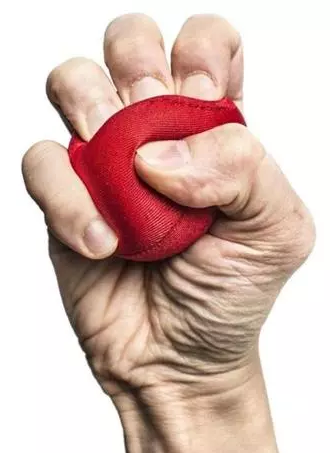 The grip is established according to the contact points between your hand and the mouse. According to producers, there are three main grip types: fingertip, palm, and claw. The difference is in the way you grab the mouse: with your fingertips, with your entire palm or with the back of your palm and fingertips (claw). These styles are important for the shape of the back of the mouse. For example, if you grab your mouse with just your fingertips, you'll need a design with a flat arch. On the other hand, if you use your entire palm, you'll need a steep arch so you can comfortably rest your palm.
What is the fingertip grip?
Since our main topic is the best fingertip grip mouse, let's see what exactly a fingertip grip is. So, if you tend to use only your fingertips to guide the mouse, you'll basically in this category. It's a grip style less popular among gamers (about 19.6% of gamers use it), but it does exist so mouse manufacturers have to consider it.
This grip allows you to move the mouse in any direction without actually moving the entire arm. The action is mostly in the wrist and, if you're not using a mouse specially designed for it, you won't feel comfortable.
The fingertip grip is recommended mostly for FPS games where your reaction time is of absolute importance. Because your fingers are already on the buttons, you'll be able to react fast and swift.
Top 5 Best Mouse for Fingertip Grip
Now that you know what a grip style is, let's take a look at the best mouse models for fingertip grip.
Logitech G502
This fingertip grip mouse is one of the most impressive on our list. With an advanced optical sensor for accurate tracking and custom RGB lighting (for different profile settings), the Logitech G502 is definitely worthy of your attention. It also supports sensitivity settings between 200 and 12,000 DPI and customizable weights to help you reach the perfect balance.

The G502 comes with 11 programmable buttons and the textured rubber grips make it extremely easy to hold the mouse with just your fingers. The back of the mouse is flat and the general layout and feel recommend it as the best finger grip mouse.
Finally, the mouse is easy to program using the Logitech Gaming Software. This allows you to set lighting for different gaming profiles, program each button, set up macros and more.
Pros:
Great design
Textured rubber grips for extra comfort
Highly sensitive sensor
5 DPI settings for changes on the run
Hyper-fast scroll that can be adjusted
11 programmable buttons
Cons:
It feels quite heavy
It's mostly designed for people with small hands
BenQ ZOWIE FK1
Small and elegant, the ZOWIE FK1 is an ambidextrous mouse that was designed to be used with your fingertips. It's easy to install (just plug and play) but it only has 5 buttons you can use. There are two thumb buttons on each side, so you can easily switch between left and right whenever you feel the need. These can be programmed to take different functions in games.

The surface is pleasant to touch and the flat arch makes it a great fingertip mouse. It is great for FPS games and you can adjust the DPI from 400 to 3200 on the run without having to install any third party software. The change is done with the help of a switch situated at the bottom of the mouse. You'll also notice a change in lighting color which is nice in case the setting gets changed by accident.
Pros:
Simple, elegant design
Small and lightweight – great for a fingertip  mouse
No need for third party software
Several DPI settings
Cons:
Fewer buttons
Quite expensive
The cable isn't braided and this may reduce durability
SteelSeries Rival 300
This is a right-handed gaming mouse that can be used for both the fingertip grip and claw grip due to the slightly bumped arch. It comes with an elegant design, classic colors, and rubberized textured sides that improve your grip even during the tensest gaming sessions.

The SteelSeries Rival 300 offers precise tracking and 6 programmable buttons. Also, the resolution can be configured up to 6500 DPI, it supports RGB colors, and 2 areas that are illuminated so you can easily see the profile you're running.
The mouse is designed to be durable (over 30 million clicks) and there is no lag between your click and the action on your computer. Even more, each button can be programmed using SteelSeries Engine 3, a user-friendly interface that's easy to understand and use.
Pros:
High-quality design
Ergonomic buttons for more comfort
Textured side grips
Great reaction speed
1:1 real-life movement tracking
RGB colors and 6 programmable buttons
Cons:
It's not that reliable sometimes
Razer DeathAdder Elite
The DeathAdder Elite can be easily considered the best fingertip grip mouse in the world with its advanced optical sensor, ergonomic design, and amazing speed and accuracy. All these features made the mouse extremely popular among esports players around the world.

It is fast (16,000 DPI at 450 IPS) and supports a Resolution Accuracy of 99.4% which very few devices in the world do. It is also durable (tested for 50 million clicks) and it is incredibly comfortable, especially for the fingertip grip.
The scroll wheel is specially designed to be easy to control and there are other 7 buttons that can be programmed using the provided software. Finally, you can customize the lighting areas as you please using the RGB settings.
Pros:
Gorgeous design
Extremely advanced sensor
Fast response and great accuracy
Durable and easy to customize
Cons:
It is not as durable as advertised
Tecknet Professional
With a futuristic design and various illuminated areas, the Tecknet Professional mouse is definitely one designed for gamers! While it is a bit big and it may not be the best mouse for fingertip grip it's still pretty comfortable. The accuracy is exemplary and the reaction time is very fast which recommends it for FPS gamers.

It supports 3 DPI adjustments (between 1000 and 2000 DPI) and features 6 programmable buttons that are easy to reach from various gripping styles. However, you should know that there are a few slick sides that are not that great when your hands are sweaty.
Pros:
Great design
Attractive lighting
Different DPI adjustments
6 programmable buttons
Cons:
Not too comfy for people with small hands
Slick sides are not that good