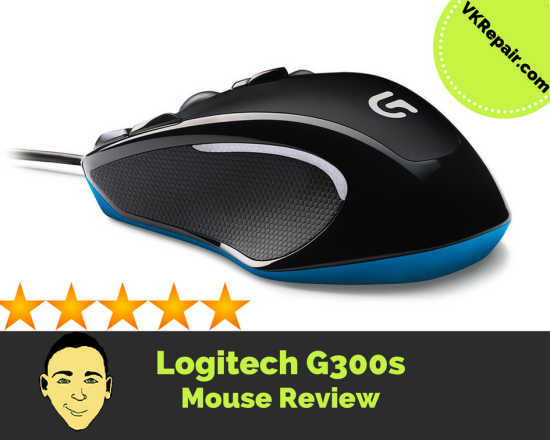 Most gamers understand the necessity of a highly customizable mouse and they are ready to open their pockets for a bit more oomph in the game. However, not all games require a highly expensive mouse – if you're not a hardcore gun slinger, a mouse like Logitech will do the job just fine.
In today's Logitech G300s review we'll take a look at the features it offers, the price, and we'll also consider other gamers' opinion. However, you should know from the start the G300s is entry-level in the world of gaming gear. It's great for casual games like Call of Duty and other similar first-person shooter games. Its features (described below) place it above the standard computer mouse but below high-budget models.
Design of the Logitech G300s
The G300s is quite elegant, with a black matte finish and blue highlights. The top surface is smooth and nice to touch and we loved the fact that it doesn't retain any smudges or fingerprints. Another feature you might like is the compact design that perfectly fits any hand, small or big. Still, you should know that if you have really big hands, the G300s may seem quite small and it may be difficult to handle.
Also, the mouse is designed to be used in both hands (ambidextrous) and features a solid build that will take any abuse. During our Logitech G300 review we tested its resistance to fast clicking and rapid movement on several surfaces. We're pleased to say, the G300s behaved exemplary.
Logitech wanted to create a durable mouse and this is why it included buttons that are designed to last up to 10 million clicks each. So, shoot away without worrying about your mouse giving up on you! You should also know that cord is quite long so if you're using it with a laptop this may become a nuisance. On a PC though, it will fit perfectly.
The belly of the mouse is a nice blue color that fits well with the design. On the belly you'll also find the optical sensor (250 – 2500 dpi accurate) which can successfully track slow and fast movements regardless of surface. This will increase your gaming precision and speed and you'll see this when you're trying to take aim in your favorite fps game.
The G300s is supported by polytetrafluoroethylene feet which reduce friction and allow the mouse to be extremely accurate on almost any surface. The sides are also covered with a rubbery compound that is pleasant to touch and the small bumps are great at increasing your grip. This is great for all those crazy sessions when your hands sweat from all the excitement you're going through!
 Logitech G300s Customization Possibilities
One of the main focus points of our Logitech G300s review is the type of customization the mouse allows. This is important because the mouse is one of the most-used tools in PC video games and the gamer must have all the important controls as handy as possible. For this, a gaming mouse must allow the gamer to customize the controls according to his or her preferences.
The G300s has 9 programmable controls, which is quite enough for most fps games available today. Even more, all controls are easy to reach without having to get your hand off the mouse. Thus, you can control push-to-talk in-game communications, edit DPI settings while playing, or simply move your keyboard commands on one of the buttons. The world is that simple with G300s!
G300s Onboard Memory
The G300s is only capable of remembering 3 gaming profiles but most entry-level gaming models don't need more than this. Even more, to know which profile is active, you can assign different lighting (blue, gray, and red). You will see the difference in the Logitech logo on top and the side stripes that highlight the shape.
During this Logitech G300 mouse review, we used this feature to see if it's easy to understand. That's why we can definitely say the interface of the configuration software (which can be downloaded for free here) is intuitive. All you have to do is drag and drop commands on the buttons you see on your screen – no coding, nothing complicated.
G300s is equipped with automatic game detection so your profiles can change automatically according to the game you're playing.
The feature is extremely useful if you like a higher level of customization for gaming activities as opposed to regular PC activities.
Technical details of the Logitech G300s Mouse
Besides the features mentioned above, you should also know that the G300s supports a 1-milisecond report rate. This is the speed the data is sent to the computer and we consider this mouse to be quite fast. This means no lag in fast games, no bottlenecks, and no game tearing. So, if you're usually fast in games, this is a mouse that will help you put that speed to good use.
During our Logitech G300s review, we used the mouse on a Windows 7 computer. However, both the mouse and the Logitech Gaming Software will work well on Windows versions starting with Vista and moving up to 8 and 10. You will need one USB 2.0/3.0 port available and a steady Internet connection to download the configuration software.
The mouse will also work on Linux systems and on older versions of Windows but some features may not be available.
Other specifications:
Resolution: 250 – 2.500 dpi
Max. acceleration: >20G
Max Speed: 60 IPS (1.5m/s)
Pros & Cons of the Logitech G300s Mouse
Now that you understand the possibilities of the G300s mouse from Logitech, we believe it's time to draw the line and see where we stand.
Pros:
Ambidextrous use
Compact design
3 memory profiles
Fast and easy to configure
Great for fps games and regular PC work
Durable and works on any surface
9 customizable controls
Cons:
Too small for large hands
Only 3 types of lighting
A very long cord
At the end of the day and our Logitech G300s review, the conclusion is clear: this is a great mouse that will increase your gaming skills without breaking the bank! Check it out on Amazon here.