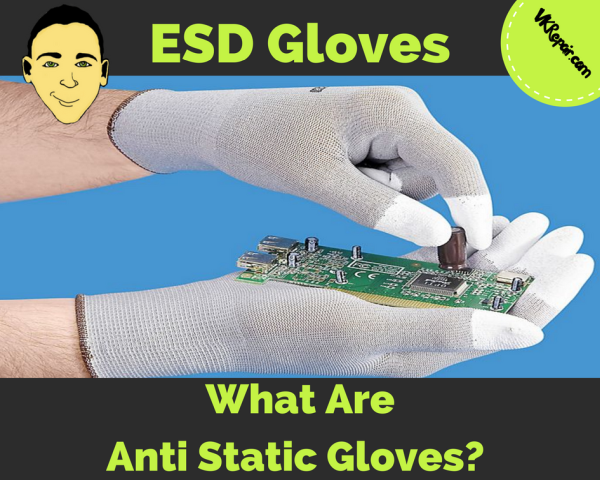 In this article:
Have you ever touched another person and felt a small current of energy going through your hand? Well, this is what we call electrostatic discharge, which is nothing but a release of static energy that accumulates in our bodies as we move through space.
Now, that small current of energy you feel when an ESD (Electric Static Discharge) happens is actually 3,500 volts of static energy that is being released. We don't feel anything lower than this. However, the electronic devices around us are highly sensitive and can be affected by as little as 5 or 10 volts of static.
This is why it is recommended to wear anti-static/ ESD gloves or wrist straps when handling sensitive devices such as PC components or performing a smartphone repair.


What Are ESD Gloves and How Are They Helpful?
These gloves are specially designed with a blend of soft conductive synthetic fibers and their main role is to protect electronic components, such as circuit boards, from harmful electronic discharges that happen on contact with the human skin.
Even more, if you read a bit about ESD gloves specification, you'll learn that they also protect the electronics you handle from fingerprints, smudges, harmful oils that usually reside on your fingers and so on.
Finally, some of the best anti static gloves are engineered to increase your grip while working with small objects, by adding a layer of rubber on the fingertips.
Important: These gloves can also protect you from exposure to harmful chemical elements used in circuit boards construction or transferring bacteria and harmful microorganisms from the device to your body.
Top 3 Best Anti Static Gloves
Now, that you have an answer and a better understanding of what are anti static gloves, let's take a look at some of the best products on the market.

#3: Kinetronics Anti-Static Gloves
These gloves can be used multiple times and fit well in most hands due to the elastic band on the wrist. They are made of conductive and synthetic fibers, but even though the aspect is a bit rough, the material is soft to touch and quite nice to wear.

When it comes to maintenance, all you have to do is give them a gentle wash from time to time using soap or detergent. If you don't want to wait for them to get dry naturally, the gloves can be put in the drier, at a warm setting.
When/Where to use them
The Kinetronics ESD gloves are extremely useful in a wide range of situations:
If you handle delicate film, negatives, prints, or slides – they prevent oily fingerprints and smudges and you can wear them while trying to remove such accidents.
If you handle fine art paper or work in the printing industry, these gloves are a lifesaver.
When you handle fine electronic devices – whether you work with smartphones (repairs, updates, and so on) or PCs, fine electronic devices are extremely sensitive when it comes to static electricity.
Overall, the Kinetronics ESD gloves are a valuable addition to your toolkit as they protect your hands from harmful chemicals, but most importantly, they protect expensive electronics from an electrical discharge.

#2: Ehdis Anti Static Gloves
If you're looking for a pair of all-use EDS gloves, the ones produced by Ehdis may be just the thing you need. Made of nylon, and with a slim feel on your hands, these are some of the best anti static gloves on the market. The fully-coated fingertips provide you with a good grip, while the form-fitting, stretchy design makes the gloves easy to wear.


The only downside is in the color (white), because every smudge will be visible on their clean surface. Still, the material is not absorbent so they can be easily cleaned in cool water. Furthermore, the fact that there's no special coating makes them great for long-term use (the material allows the skin to breathe).
When/Where to use them
The Ehdis Anti Static gloves can be used for a plethora of activities that require handling fine materials sensitive to fingerprints and smudges or electronics sensitive to electronic discharge.
Here are a few example activities where these gloves will be useful:
Handling photographic film or printed materials (anti-fingerprints or smudges)
Handling acrylic products
Protect fine electronic devices from oily hands
Protection against dust particles attracted by the electrostatic energy
#1: ThxToms ESD Anti-Static Gloves
Made with dense carbon fiber, these gloves have strong anti-static qualities. So much so that they can be worn instead of the ESD wrist straps recommended while installing sensitive electronic devices.


The design is specially engineered to provide maximum grip and comfort to the wearer, while the fabric is flexible, allowing you access even in tight places. The fingers are coated with polyurethane for maximum accuracy while working with small devices. Overall, the gloves are thin and allow the skin to breathe, which is important if you are going to wear them for a long time.
When/Where to use them
This ThxToms product is among the best anti static gloves to wear for a wide range of situations such as:
Building a high-end PC
Working with electronic products
Smartphone repair or upgrades
Working with jewelry
Precision Packaging
Working in a PCB Factory
Mechanical Workshop
Chemical Industry
Overall, these are the ESD gloves we would recommend having if you handle lots of electronics every day. They are amazing for work in electronic repair shops!
Conclusion
As you can see, the best anti static gloves are thin, easy to wear and quite comfy even when you're working with small devices. They're also soft to touch and, while it may take a few days to get used to them, it's important to make sure you are protected.
According to the above ESD gloves specification, they are low-maintenance and can be worn for long period of times. This is important when you're working in an environment where ESD protection is necessary, so make sure to look for these features when you're in the market for a new pair.