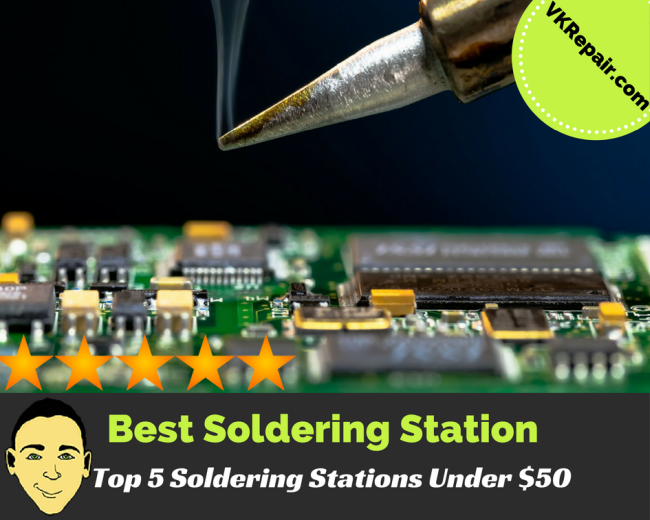 If you are the handyman of your group when it comes to repairs or maybe you want to start a business out of repairing modern devices such as phones or tablets, you have to make sure you own the right equipment.
Regardless of the type of industry you choose, a soldering station is going to be extremely useful as there are countless applications for it in our day-to-day life. The fun part is that, for small repairs around the house and DIY projects, you can actually get something very affordable.
Still, before we start talking about the best soldering station under 50 dollars, it's best to make sure everyone is on the same page. For this, let's see the soldering station definition and its main applications in the real-world.
What is a soldering station?
You may know the term or have a vague idea of what a soldering station is, but before you can buy one, you must have the correct idea.
A soldering station or soldering iron is a tool that can be used by hand, and its main purpose is to supply heat in order to melt solder. The heat is achieved by passing an electric current through a resistive heating element. Once fluid, solder is used to join two or more metal pieces together.
To make an idea of how it looks, you should know that the main components of a soldering station are a heated metal tip and an insulated handle. The current is delivered via an electric cord and it is recommended to wear protective gear while using the soldering iron.
When it comes to features that matter when you purchase such a station, the ones that stand out are efficiency, safety, heat control level, and value for the money.
Top 5 Soldering Stations Under $50
We decided to list the best soldering stations under 50 dollars because our main target is people who love DIY projects or small repair shops. Since these people don't tend to spend too much on high-end equipment, it's best to help out by finding the best products that are affordable and effective.
#1: Weller WLC100 40-Watt Soldering Station
The Weller WLC100 40-Watt Soldering Station is the perfect kit for DIY hobbyists and small repair shops. Equipped with a high-quality pencil iron which has a power control and a cushioned foam grip, the station is both efficient and easy to use. Even more, there is a well-known safety element (the iron holder) which allows you to leave the pencil aside when you don't need it.
The pencil iron is lightweight and the heating element can be replaced. Also, the ST3 iron-plated copper tip can be replaced with compatible ST series tips for different applications. However, you will have to purchase the additional tips separately.
The ST3 tip is specially designed to withstand corrosion or solder creep which increases your tool's durability in time. Besides the great screwdriver tip, the WLC100 is also equipped with an easy-to-adjust variable power control. The adjustment is done by simply turning a knob from 5 to 40 watts.
We also loved the indicator light and the accessible ON/OFF switch mounted on the base. This way the risk of leaving your soldering iron on, unsupervised, is lower.
#2: X-Tronic Model #3020-XTS Digital Display Soldering Iron Station
If you're looking for a better-equipped soldering station, the X-Tronic Model #3020-XTX is quite a bargain! Equipped with a slim pencil iron, temperature controls, and several important accessories, this is definitely the station for an enthusiast.
The 75 Watt Soldering Iron features an sleek, heat-resistant grip that can withstand temperatures between 200°C and 480°C. The temperature adjustment is easy to use and the blue LED screen displays the information you need. One feature we loved is the switch that allows you to move from Celsius to Fahrenheit.
The tip cleaner area (with a brass sponge and cleaning Flux) and the iron holder are some of the best accessories this station could offer.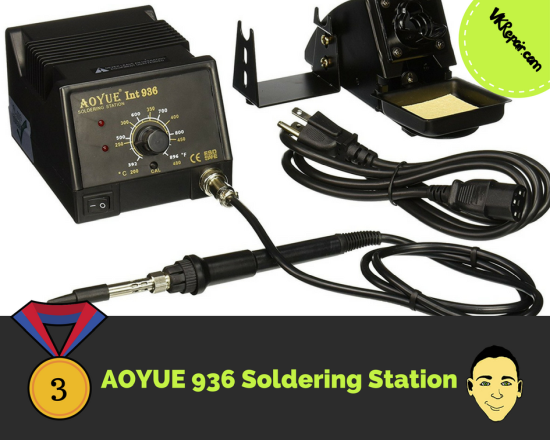 #3: AOYUE 936 Soldering Station
The AOYUE 936 Soldering Station is simple, affordable and very easy to use. Equipped with a regular pencil iron, this 35 watts station is equipped with a base (for temperature control) and a separate accessory for the iron holder and tip cleaner. This accessory can be attached to the base if you want or it can be mounted on the work bank; it's up to you.
The iron pencil comes with a plastic cap, for protection and the grip is rubbery. You also have the possibility to choose the temperature settings by simply turning a knob. Just keep in mind that settings are expressed in both Celsius and Fahrenheit.
At the end of the day, this is a great soldering station, with a solid built and a spare heating element included.
#4: Aoyue 469 Variable Power 60 Watt Soldering Station
With an elegant and simple design, the Aoyue 469 station will fit anywhere in your home or repair shop. The base is small and the temperature control is done via 8 levels of heat. The fact that you can't set an exact level of heat may be considered a disadvantage by some people, but if you don't need strict settings, this shouldn't be a problem.
There is also no ON/OFF switch so you'll have to simply pull the plug when you're done working. Otherwise, the pencil iron looks easy to use and the handle is well-designed so you won't burn your fingers while working.
#5: ZENY 937D+ SMD Soldering Hot Iron Station
This is a compact soldering station with 5 spare iron tips and all the necessary accessories for a safe work environment. We loved the LED digital display where you can see the level of temperature and the pencil iron holder which is different than what we've seen on other stations.
Temperature settings are expressed in Celsius degrees and the supported range is between 200 and 480 degrees. The ZENY 937D+ SMD Soldering Hot Iron Station works at 45 watts and there is ventilation on the sides of the base to keep the temperature at a steady level.
Also, one feature we really appreciated is the removable iron pencil. The pencil is connected to the base via a port so, if the iron or the cable breaks down, you can easily replace it.