Unspecified iPhone Not Detectable in Windows Explorer Fix
Sometimes, Windows may fail to recognize USB drivers connected to a Apple mobile device such as an iPhone. Because of this, you may get an error message saying, "Apple mobile device USB driver unspecified". This may result in your computer not recognizing your iPhone. Worst of all, the iPhone will not show up in iTunes! Typically, when you connect a device to your computer via a USB cable, a Windows Explorer window will pop up, allowing you to navigate through the device's folders and storage. If there is a problem with the driver, this will not happen!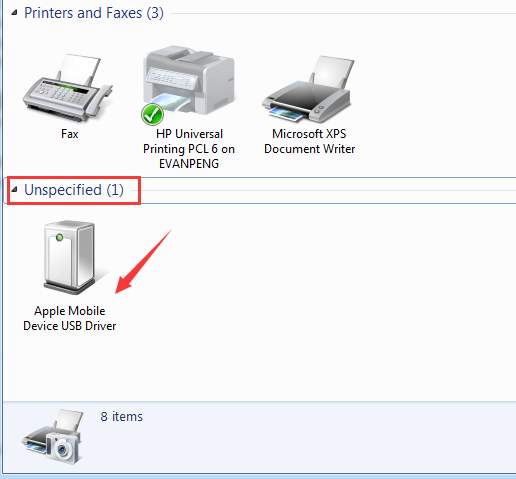 This may be caused by a variety of reasons. If you are experiencing this issue, you would see a yellow triangle with an exclamation in it, symbolizing that there is an issue with the driver. This article will focus on finding out what those reasons may be and how you can address them as quickly as possible without incurring further damage to your machine. Below are some of the initial causes that you need to keep in mind before going any further.
Why Your iPhone is not Recognized in Windows Computer
Most of the time, the reason why mobile devices are not recognized by certain operating systems is outdated software, resulting in the apple mobile device USB driver unspecified error to show up. If this is so, then you have a compatibility issue between your computer and your gadget. You can resolve this by doing a few simple things.
Before you try to synchronize your Apple mobile device and USB driver onto the computer, make sure that everything you are using is up-to-date. Update your iTunes program as well as your own computer software and operating system through Windows Update. This way, you will be able to ensure that your machine will be able to work right and recognize every external driver that may play a significant role in the process.
When updating your computer, make sure that you are able to download the most recent drivers for your machine. Downloading outdated drivers is another problem that may cause synchronization failure in your iPhone.
To resolve all this without a hitch, you must do a little bit of research and get to know the latest drivers that you have to gain in order to keep the computer and your iPhone running smoothly. This way, you will not get the driver unspecified error message on your machine again.
How to Update Your Drivers Properly
Below are some of them most effective steps for you to update your drivers properly. Just follow the steps and you will surely be one step closer to solving your driver problem.
Go to Device Manager on your Windows computer
Find the Apple Mobile Device USB Driver. In some cases, it will have an exclamation point over it if there are issues with the drivers
Select Update Driver Software...
Select "Search automatically for updated driver software" and it will scan online to find the latest driver update
In case automatic driver updates fail, you will have to select "Browse my computer for driver software". This will require you to have the actual driver update file on your computer.
First try to point it to the following folder to install drivers from: "C:\Program Files\CommonFiles\Apple\Mobile Device Support\Drivers"
If that does not work, you will have to download them online. It would be best to visit the website to get the specific driver that you would need online. Make sure that you go to the legitimate site so that you will not have a problem with viruses infecting your computer down the line
Upon downloading the new drivers, you should restart the computer to complete the process
Uninstall the Apple Mobile Device Driver
If updating the driver did not work, you might just have to uninstall it. Don't worry, it is not as painful as it sounds! Follow the directions while your iPhone is plugged into your Windows computer via a USB cable.
Go to Device Manager on your Windows computer
Select "Uninstall"
Select "OK" to confirm the uninstall of the driver
Disconnect your iPhone or Apple device from the computer
Reconnect the device, and it should start to install the Apple mobile device USB driver
Use Windows troubleshoot tool
Another thing you can try to fix the unspecified driver issue is to use the Windows troubleshoot tool. This will allow Windows to scan the driver to see what is wrong.
Open up Windows File Explorer and put the following into the address bar, this will take you to the device and printers: "Control Panel\Hardware and Sound\Devices and Printers"
Right click on the Unspecified device in question and select Troubleshoot
Windows will try to detect what the problem is the the device and gather information, then perform the fix if it can
If it can find the solution, it will fix the problem for you
Restart the Apple Mobile Device Service
Sometimes by simply restarting AMDS, you can get Windows to recognize your iPhone. Some users will get the following message, which is a sign that it needs to be restarted: "This [device] cannot be used because the Apple Mobile Device Service is not started."
Before you start, make sure all Apple services have been closed and your iPhone is not plugged into the computer.
Open up the Run command by hitting the Windows key on your keyboard, or simply go to the start menu
Type "Run" and hit enter
In the box, type "services.msc" and hit enter, this will bring up the services console.
Find "Apple Mobile Device Service"
Right click it and select "Properties"
Make sure the Startup type is set to "Automatic"
Now you are going to click stop to stop the service
Once it is stopped, go ahead and start it up again
Click OK and restart your computer
Once your computer is back up, open up iTunes and plug in your iPhone via USB
Some Final Tips to Fix USB Driver Unspecified
If the solutions above did not fix the error, here are some last ditch ideas that might not hurt to try:
Check to see if there are any Windows Updates available

Microsoft might have released a patch to your specific problem

Upgrade your Operating System

Windows 8 seems to have the most problems with unspecified drivers, if you can upgrade it to at least Windows 8.1

Your iPhone may not be showing up because you have not authorized your computer

Simply plug in the iPhone, and unlock it. You will be asked if you want to allow this computer to access the data on the iPhone

Plug the USB cable into a different port
Restart the computer
Try a different USB cable
These are just some of the many ways for you to resolve the Apple mobile device USB driver unspecified problem. If all else fails, availing of an external USB driver for the computer can also help you resolve the issue. However, try to consult customer service assistance first before doing anything of the sort.