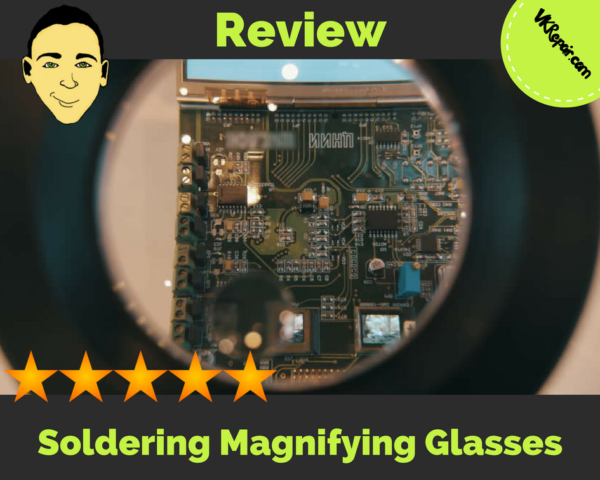 Also known as just magnifying glasses, these devices are amazing when you're working with small electronic devices, jewelry, or even for various crafts that require a lot of focus. They are called glasses because they fit around your head (just like regular glasses) and allow you to use magnification and light while keeping your hands free for work.

What Are Soldering Magnifying Glasses?
Basically, you use them as a magnifier glass attached to your head that you can tilt, adjust, or simply remove whenever you want. Furthermore, the glasses are usually equipped with an LED light (powered by batteries) so you can direct light on the device you-re working on. Since they use LED light, the glasses don't get hot, but they can get slightly warmer during long-term use.
Now, if you wonder if this type of a headband magnifier can have a negative impact on your eyes, let me put these fears to rest. The magnifier is actually protecting your sight, as keeping your eyes focused on a small object for long periods of time, can have negative effects starting with headaches and vision problems.
As a rule of thumb, the soldering magnifying glasses are one of the most important tools one can have in their phone repair toolkit! Just make sure they come packed with these mandatory features:
Bright LED light that can be adjusted – important for a better work environment
Interchangeable/ adjustable lens
Head strap – for long-term use
Several levels of magnification
Good build – in most cases, a good pair of wearable magnifying glasses features a plastic body for increased comfort and lightweight.
Comfortable nose piece – if you are going to wear them for long periods of time, make sure the nose piece is rubberized
Top 5 Best Wearable Magnifying Glasses
We did a bit of digging and found the best wearable magnifying glasses for people who work with delicate electronic devices, such as phones.

Carson LumiVisor Head Magnifier
This device allows you to work on tiny devices (such as phones or other electronic devices with small boards) without having to worry about light or magnification problems. The Carson LumiVisor is easy to fit around the head, due to its elastic strap and has two main features: an LED light (with 3 bulbs) and a fully adjustable magnifier with four magnification settings (2x/3x/5x/6x).
The visor works great for all sorts of crafts and DIY projects where you need light, magnification power and your hands free.
Pros:
A great headband magnifier
Four settings of magnification
Easy to wear and use
LED light
Good construction
Cons:
A bit heavy
Batteries are difficult to install
It slides down after a while
MD direct Lighted Headset Magnifying Glasses
If you are looking for wearable magnifying glasses, the MD design comes with a rich array of features and doesn't require too much maintenance (maybe a battery change every now and then).
The glasses are easy to fixate on the head and are equipped with 5 interchangeable lenses with 5 magnification settings (from 1.0x to 3.5x). Furthermore, the spare lenses are neatly packed in a protective case so you can keep them safe and handy.
These soldering magnifying glasses also provide you with a bright light, which can be adjusted according to your needs. Overall, the MD glasses seem to have it all for someone working in a phone repair shop.
Pros:
Good construction
Headband for more security while working
Bright light that can be adjusted
Lenses' angle can be adjusted
Cons:
Batteries are not delivered
The weight is concentrated on the front side
KOBWA Illuminated Multi-Power LED Head Magnifier
This is a very well-built headband magnifier with built-in fixed lens and 4 magnification settings. The lens flips down and the LED light can be adjusted on the XY axis. We loved the fact that the head strap can be controlled using a dial knob, located at the back, and that the KOBWA glasses are pretty lightweight and easy to work with.
Pros:
Well-built & lightweight
Good magnification settings
LED light is adjustable
Cons:
The focus is not great when magnification is used
The plastic material is a bit cheap
Batteries not included
Lemonbest Handsfree Eyewear Headband Magnifier
With a futuristic design and interchangeable lenses, the Lemonbest wearable magnifying glasses pack a series of features that make them fantastic for your phone repair shop or DIY projects. First, the lenses are interchangeable and made of anti-scratch ABS plastic which is durable and lightweight. Next, the frame and rubber nose piece, make them extremely easy to wear, and finally the LED light is super-bright and adjustable.
Pros:
5 magnification settings
Protective case for the lenses
Headband for extra security
Cons:
Batteries not included
A bit of a flimsy build
It's difficult to change the lenses
Coolstorer Headband Mount Magnifier
The wearable magnifying glasses from Coolstorer are stylish and lightweight, allowing you to wear them in a wide range of situations. What makes them great for a phone repair shop is the bright LED light and the adjustable interchangeable lenses that allow to set different magnifications (from 1x and up to 3.5x).
To make it more comfortable to wear for long periods of time, the glasses are equipped with a headband, which is flexible and keeps them on your head even when you make sudden movements.
Pros:
Lightweight and easy to wear
Good build
Good light
Comfortable for both short and long-term wear
Cons:
Nose piece is a bit problematic
Lenses are a bit small for full focus
In Conclusion
Our list of amazing wearable magnifying glasses you can use when you're working on a phone or another small device ends here. As you can see, there are plenty of products to choose from and it's only up to you to find a pair that fits your needs and your budget.