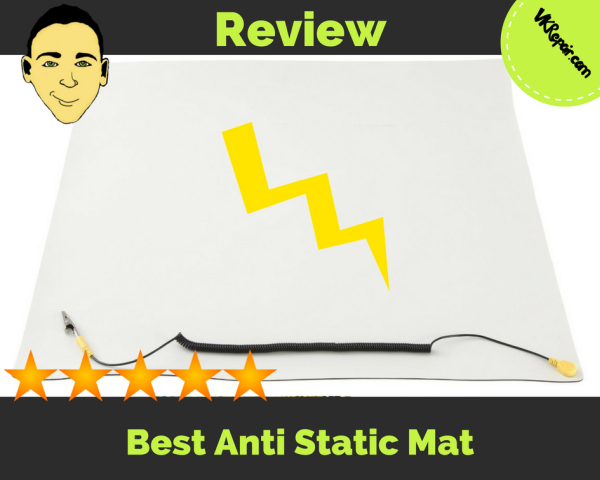 If the question 'what is an anti static mat' immediately pops to mind, you've probably never fried a sensitive electronic device with ESD. While you may have been lucky until now, electrostatic discharges do happen and you should acquire all the protection tools you can get.


How Does Anti Static Mat Work?
Usually, this type of mat is no bigger than the standard work surface and comes equipped with snaps and cords that ground it to an outlet that can dissipate the electrostatic energy without harming the devices sitting on the mat.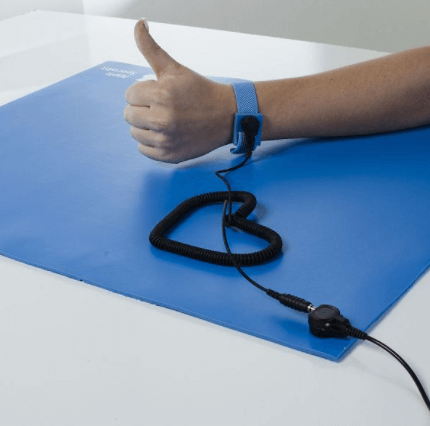 Furthermore, the mat is made of a special material (in most cases PVC) that create allow ESD to move quickly through.
How to Use Anti Static Mat?
The installation and use of such a mat are extremely simple: you just roll it out (or unfold it), connect the grounding cable to your work station's leg using either the banana jack or the alligator clip.
Next, you can connect yourself to the mat, using an anti static wrist strap, and that's it; your sensitive devices are protected against ESD!
Best Anti Static Mats
We reviewed some of the best anti static mats on the market so you'll know which to choose according to your needs. Finding the best anti static mat can be trivial, but we think we did it! Check out the ones below:
StarTech.com 24x27.5-Inch Desktop Anti-Static Mat M3013
Size: 24 inches x27.5 inches
Material: anti-static PVC + PVC foam
Grounding cord: 10ft. (3m) with alligator clip
The StarTech Desktop Anti-Static Mat is a very nice addition to your toolkit if you're used to working with circuit boards or sensitive PC equipment, but it also works nicely in a phone repair service shop. The mat is big enough to be placed on your work table, and it is made out of the best static dissipative material to protect devices from possible ESD.

The cord is designed with a clip, to make the installation easier and the mat follows IBM & US military static standards, so it can be used for both DIY projects and professional work. Still, we wouldn't recommend it for soldering work as the material is not heat or puncture resistant.
Pros:
High-end design
Follows high protection standards
Large enough to accommodate most types of projects
Cons:
It is not puncture resistant
It does not resist high temperatures
Rosewill Anti-Static Mat
Size: 23.6 x 23.6 Inches
Material: anti-static PVC + PVC foam
Grounding cord: 10ft. coiled with alligator clip
The Rosewill anti-static mat is not heat resistant so you can't use it for soldering, but it is ESD safe as long as the grounding cable is connected and you keep the device you're working, on the mat.

The product is durable and large enough to allow you to work on several phones at once, or on a PC. Still, we didn't really enjoy the fact that the edges tend to roll up when you first unpack it and place it on your work surface. This limits the work surface and can move the devices placed on the mat out of the safe area.
However, this tiny flaw can be easily fixed with a bit of heat (not too much) and some weights.
Pros:
Large enough for several projects
Durable
Easy to install
Cons:
The edges tend to roll up
Not heat/puncture resistant
Velleman AS4 Anti-Static Mat
Size: 11.8 x 22 inches
Material: PVC-latex
Grounding cord: a coiled grounding cord with alligator clip
The AS4 from Velleman is a medium-sized mat that resists to temperatures up to 100 degrees Celsius (not for soldering). It has a surface resistance of 10E9 - 10E11 Ohm/m2 and charge decay smaller than 0.03 s.

Furthermore, it is more flexible and sites better on the work surface than most PVC-only designs, and it is extremely easy to clean. It is a nice addition to any electronics hobbyists and people working on phone repair and PC building professional projects.
Pros:
Fits any work surface nicely
Easy to clean
Non-slip surface
Thick and durable
Cons:
Velleman AS9 Anti-Static Field Service Kit
Size: 24"x24"
Grounding cord: 6 ft. common point cable with a banana jack & alligator clip
If you need an anti static mat that's easily portable and foldable, the AS9 from Velleman is one of your best choices.  With a surface resistance of 108 to 1010 Ohm/m2, this mat is great for keeping your sensitive devices safe.

Furthermore, besides the grounding cable, the mat is delivered with an adjustable and elastic anti-static wrist strap with 10 ft. of coiled cord. This way, you can definitely make sure everything will go well while working on a phone or a DIY circuit board.
Pros:
Heat resistant (but only up to 70°C)
Large and portable
Comes with wrist strap
It's foldable and easy to use in most situations
Cons:
Alligator clip from grounding cord is a bit weak
There is no place on the mat for an alligator clip
ModRight Xtreme Super Large Anti-Static
Size: 47" x 23"
Material: rubber + PVC foam
Grounding cord: included
The ModRight Xtreme design is a huge anti static mat, designed to protect large areas and devices from ESD. The cool thing is that the mat is painted with several useful details such as a fan spacing chart and a processor diagrams, and allows for plenty of space so you can place all sorts of parts on it safely. The surface has a non-scratch rubbery feel, which is why even high-finish parts will stay put.

You'll also find several snaps for an anti-static strap and ground wire on the mat, but these are placed at the top to maximize the available workspace.
As you can see, this mat is huge and thick so it will be difficult to remove once installed. So, it's best to buy it if you have a settled work area.
Pros:
Large & easy to install
Thick, rubbery surface
Great for large projects
Has snaps for both the grounding wire and wrist strap
Cons:
Large and difficult to move
The writing goes away after a while
In Conclusion
An anti static mat is a nice addition to anyone's toolkit so make sure to get the best product you can find. As you can see, they are affordable and you can find products that adapt to any situation.