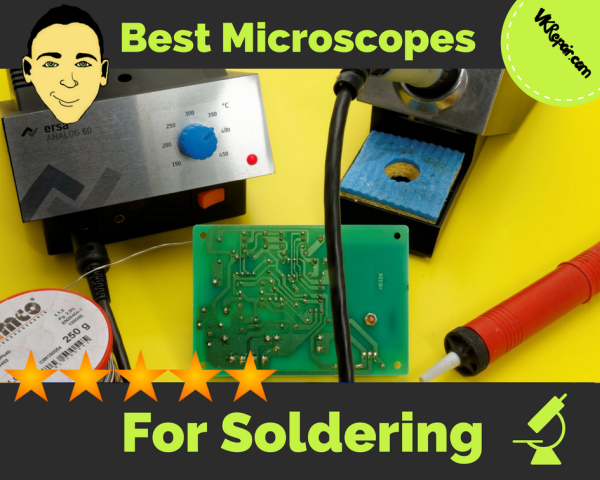 When you're working with fine electronic devices such as smartphone motherboards or other tiny components for PC or phones, you need a way to magnify the image of the product you're working on.
This is why every electronics repair service shop should have a microscope for electronics work that allows some fine-tuning of the images, taking pictures and even videos of what you're doing.
Best Microscope for Electronics Work
We did a bit of browsing and below you can read about the best microscopes for electronics repair on the market right now.

Aomekie Portable 4.3" LCD Digital Microscope
Magnification: within 1- 600x range
Power: Li-Ion rechargeable battery
Features: LCD display, 8 pcs built-in LEDs, brightness adjustment

The portable microscope from Aomekie is easy to use and comes with some impressing features that make work in a service shop or on DIY projects, easier.
The cool thing is that it doesn't need to be connected to a PC so you can see the images. The built-in 4.3 inches LCD display is equipped with everything you need for a clear image of the object you're working on. From zoom-in and zoom-out buttons, to distance adjustment and even the possibility to register and store the captured images on a microSD card, this microscope has it all.
Now, in order to make sure this will be the best microscope for soldering, the manufacturer also added an adjustable mount with a sucker that can be placed on most flat, smooth surfaces. Finally, we also liked the 3 seconds delay on the shutter button (great to prevent the camera shaking when you're pressing the button).
Pros:
Highly portable

Steady mount

Built-in LCD display with all the necessary features

8 LED lights that can be adjusted

Easy to install and mount where needed
Cons:
Field of vision is small

Viewing depth is short

The build quality is not the best.
AmScope SE400-Z Professional Binocular Stereo Microscope
Magnification: 10X and 20X
Power: electricity (110V-120V)
Features: solid boom-arm stand, LED lighting, gooseneck LED light

The SE400-Z is the perfect microscope for electronics work to have in a professional phone service shop! The solid base provides stability, but the boom-arm stand allows flexibility and plenty of space so you can work on different types of electronic devices in various sizes and shapes.
The viewing head is easy to use as it has a binocular-like design, and to move from 10x to 20x, you'll have to change the wide field pieces. It's also angled in such a way to reduce any neck strain when you're working a long period of time on an object.
The microscope can be adjusted on both X and Y axes, and the adjustable LED device is great for directing the light wherever you need it.
Pros:
Plenty of flexibility so you can work on different devices

Sturdy base and adjustable light

Easy to use

Lots of professional features
Cons:
Quite expensive

The stand is heavy and a bit difficult to maneuver
Plugable USB 2.0 Digital Microscope
Magnification: 250x  
Power: connects to the computer through a USB port
Features: can be connected to an Oculus Rift, 2.0 Megapixels Sensor

This Plugable digital microscope is portable and very easy to use in a multitude of projects and even in a phone repair shop, but it must be connected to a computer in order to work properly.
The cool thing is that it uses a webcam chipset, so it is compatible with most operating systems on the market. However, Oculus Rift users may need some additional set up.
In terms of installation, things are quite simple. At the base, there is a suction cup that can be fixed on any flat surface (the device comes with a board for small objects). Once you place the microscope, you simply need to connect it to your computer and the LED light on the tip will be turned on. The flexible arm allows you to direct the camera and the light as needed.
Pros:
Extremely easy to use

Fantastic for small projects

Good build quality

Great zoom-in power

Fantastic price
Cons:
Not too much fine-tuning

Controls are mostly on the desktop app

It's not professional
Andonstar 5 inch Screen 1080P Digital Microscope
Magnification: Up to 560 times
Power: 5V DC
Features: built-in LCD screen, 3 Mega Pixels HD Sensor, HDMI and USB ports available

If you're looking for the best microscope for soldering in a professional setting, the Andonstar device should be on your list! The 5-inch screen has all the necessary commands for image adjusting, but you also have a remote control for those situations when you don't want to disturb the position of the screen.
The image on the screen is clear (1080p) and it can be transmitted to a computer or a bigger TV screen/monitor. Furthermore, the screen's angle can be adjusted so you don't stay in an uncomfortable position. The microscope moves up and down on a solid stand, and the two flexible lights provide a better view when needed.
Pros:
The image is extremely clear

You can control it remotely

Comes ready to use from the box

Very well-built and durable
Cons:
Software installation is a bit problematic

Quite expensive
Shekar Digital Portable Android USB Microscope
Magnification: 10-200X
Power: connects to the computer
Features: strong suction holder, P67 waterproof camera head, can be connected to a smartphone, video recording capabilities

The Shekar microscope is small and quite easy to install and connect to various devices. However, it is not really recommended in a professional shop as it doesn't have too many features besides being a magnifying glass that lets you take videos and pictures.
It is great for DIY projects and inspecting narrow areas, but it won't do much above the specified settings.
Pros:
Powerful and bright

Can connect to almost all devices

Lightweight and easy to mount and use
Cons:
Not too durable

No professional features

Difficult to make fine focus adjustments

In conclusion, a microscope for electronics repair should be easy to install and use, and should provide you with maximum work flexibility. It's also helpful if it has features that allow for clear magnification, and high fine-tuning of the image.