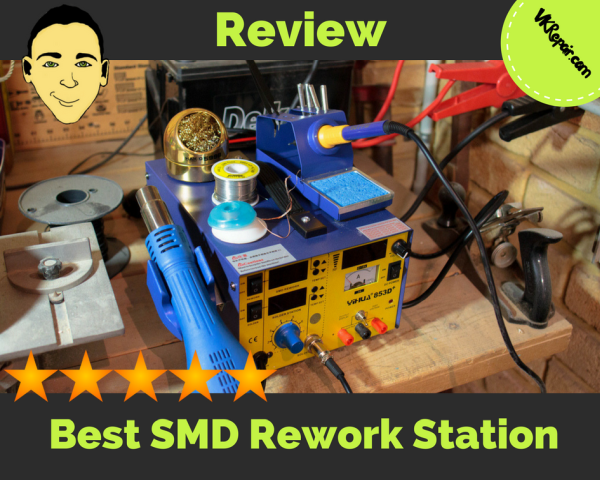 A SMD Rework station is a device that allows you to de-solder and re-solder circuit boards you can usually find in modern electronic devices such as laptops or smartphones. However, you should not confuse it with a BGA Rework Station, which is a more complex device, designed to be used by experts in the field.
The SMD Rework Station can be used by both DIY hobbyists and phone repair shops. Still, it's important to make sure you know how to operate such a device, to avoid damaging the PCB.
How to Use SMD Rework Station
Most devices will come equipped with at least a hot air gun, but if you're willing to invest a bit more, you'll also get a hot iron. The idea is to first melt the solder on the board, using the hot air gun, remove the ICs, clean the board, and then re-solder using either paste or the hot iron.
The process is not extremely complex, but it does require patience and plenty of care to avoid inflicting any damage on the board or its circuits.


Top 5 Best SMD Rework Stations
When you're working with delicate circuit boards, like you usually find when you're doing smartphone repairs, it's important to make sure you have the best SMD rework station. This is why we did a bit of digging and found the best stations to use in this case.

#1: X-Tronic MODEL 5040-XR3
Power: 1270W Total Power Consumption
Comes with: 10 Solder Tips, 4 Hot Air Nozzles, Tweezers, IC Popper, Magnifying Lamp, Goot Wick
Features: Hot air rework soldering iron, Preheater, Iron holder, Sponge cleaner, Digitally controlled temperature
This is a complete station, equipped with everything you need for de-soldering and re-soldering faulty circuit boards. The components are ESD safe and you can use this station for any type of projects you want as it works just as well in a phone repair shop and in a garage, for DIY projects. It doesn't take too much space, but it has a lot of components, so you can't move it easily.
Overall, the X-Tronic SMD station is one of the best you can find on the market. It is easy to use, it doesn't produce too much smoke, and it works with a wide range of PCBs.
Pros:
Easy to use and compact
You can work with a wide range of components
Well made
Heats up fast
Cons:
A bit of a pain to install
Difficult to move once installed
The IC popper is quite flimsy
The guides and the bars have a bit of play
#2: Aoyue 968A+ SMD Digital Hot Air Rework Station
Power: 70W (for the iron gun)
Comes with: air nozzle set, spring iron holder, spare iron tip, IC popper, spool holder, hot air gun holder
Features: Hot Air, Soldering Iron, vacuum pickup, Smoke Absorber, maintains a constant temperature, digital display, touch control, auto sleep function
This is a well-equipped SMD station, with lots of elements that make working with small circuit boards easier and faster. The digital display is a nice touch as it offers complete control over the level of temperature, and you are notified of any errors that may show up.
The Aoyue Rework Station is portable (it even has a handle so it's easy to pick up and move) and doesn't occupy too much of your working space. As such, it can be used for both DIY projects and in a phone repair service, and we loved the air vacuum pump that makes working with ICs very easy.
Pros:
Portable and compact
Easy to use for circuit boards rework
Well-equipped
Great for both DIY projects and phone repairs
Intuitive controls
The iron heats up quite fast
Cons:
The iron is modestly-powered
A bit bulky
#3: Kohree 110V LED Digital 858D SMD Hot Air Rework Station
Power: 700W
Comes with: 3 nozzles
Features: knob control for modulating airflow, LED digital display, iron holder, hot air gun
We consider the Kohree 858D device as the best SMD rework station for DIY projects, given its compact appearance and simple equipment. However, it can also be used as a portable SMD rework station and works just as well in a phone repair shop where you have other tools available.
The station can offer a temperature range between 100 and 450 degrees Celsius, and it maintains it once the step you set is reached.
Pros:
Highly portable
Easy to mount and use
Compact and heats up fast
Cons:
Doesn't come with many accessories
The tips are a bit loose
#4: VIVOHOME 2 in 1 110V 862D SMD Soldering Iron Hot Air Rework
Power: 700W
Comes with: 4 nozzles, IC extractor, gun holder, iron stand, 5 tips
Features: hot air gun, heat gun, dual LCD digital displays, digital PID technology, Auto and manual startup function
The VIVOHOME 2-in-1 is one of the best SMD stations to have around the house given the features it brings. It is equipped with everything you need for soldering and de-soldering, and the unit is compact and quite portable.
The control panel seems a bit more complicated than with most SMD stations, but it is easy to use and allows you to work with a wide range of circuit boards. The unit is equipped with tools to prevent any ESD and it allows good control over temperature level.
Pros:
Well-equipped
Good safety systems that prevent overcharging
Compact and easy to move around
Great accessories
Cons:
A bit flimsy in construction
The controls are not always spot-on
Not for professional work
#5: Tek Motion 858D LED Display SMD Soldering Rework Station
Power: 700W
Comes with: 3 nozzles
Features: digital PID technology, LED display, quick warming up feature, Automatic cooling function
If you're looking for a simple device, compact, portable, and affordable, the Tek Motion 858D is the best rework SMD station for you.
The device works on phones, laptops, and other types of electronic devices that need soldering or de-soldering. Furthermore, it is not noisy so it can be used in a wide range of locations, it is highly portable, and has an automatic cool down function that prolongs the life of its internals.
Pros:
Compact and easy to use
Highly portable
Good price
Cons:
No accessories
Only a heating gun
As you can see, our top 5 list gives you the possibility to choose between a wide range of products. Starting with high-end SMD stations that work extremely well in a professional environment and ending with compact, easy to use devices there is something for everyone.