The Best LCD Separator Machine on the market?
The LCD Separator Machine by KEEDOX may be the best repair tool that I own. It is set at a wonderful price, and it works very well. I loved it and was very happy and elated with the wonderful results that I was receiving after every repair. It is currently set at a very reasonable price and there is an extra fee of $4.49 for the shipping. It is well worth the cost though!
There is a Working Voltage of 110 volts to 220 volts. The heating area is ranging at 200 by 100 mm. It is compatible for many things such as the iPhone, Samsung, and any other smart phone devices. It also includes a built in air pump vacuum that takes away the need for clamps that were used in previous versions.
This LCD separator machine allows me to separate the broken glass away from the working LCD. You only need to replace the broken screen, and you do not even have to replace the full screen! This saved me so much money, not to mention that it was all very easy. I loved it and when I first got it, I was wondering if I would even be able to set up the thing to begin with. I was very worried, but I was persistent in learning and so I went through the manual and got to work.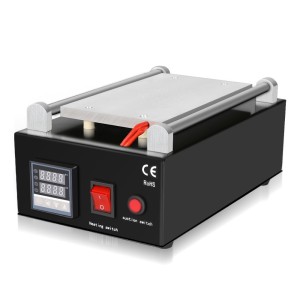 Surprisingly, I did not mess everything up and the screen separator worked just fine. My only advice is that it takes practice. I would take some broken screens and practice removing the glass. Do not attempt to do a glass only repair for a customer on your first try! It takes practice!
I was told that if I did not want to mess anything up, then I should practice on some old devices to get the hang of it. Surprisingly, this was some pretty good advice because when I first started, I scratched it, dropped it, banged it, and got smudges all over it. I had to try over and over just to get it right.
In conclusion, it was well worth the buy. I got it because I wanted to take my repairs to the next level in terms of profit. It turned out to be a huge help, and it is like one of the best purchases I have ever made for my business. I love it. The only problem, other than that you have to practice on other things is that it is pretty heavy and when you attach the wires and get everything set up, it takes a while and is a little difficult to set up. I did not like that part, or the fact that it is pretty easy to damage. I have had mine for maybe three weeks and it has a dent and a scratch down the side. You have to be really careful with it or it will get damaged badly. This is a great choice if you are looking for a LCD separator machine.
Review submitted by: AlvinSigel52 from http://www.bostoniphonerepair.com/
More Reviews:
(Visited 988 times, 1 visits today)